A personal message from Simon Maierhofer, Founder of iSPYETF:
Thanks to the folks at Investor's Business Daily who paid a huge compliment when they observed that: "Simon says and the market is playing along."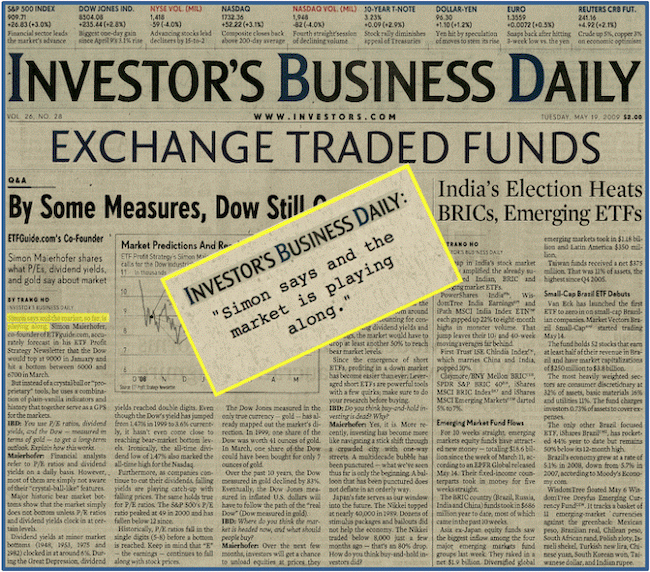 I wish it really worked that way, but the truth is, the market speaks and Simon listens. "Listening" includes reading between the lines and picking up on clues missed by the crowd.
To that end, I monitor the most powerful stock market forces (I call them the "4 Stock Market Engines" ) and share the results via the Profit Radar Report.
Barron's analyzed this uniquely comprehensive approach and rated iSPYETF as "trader with a good track record."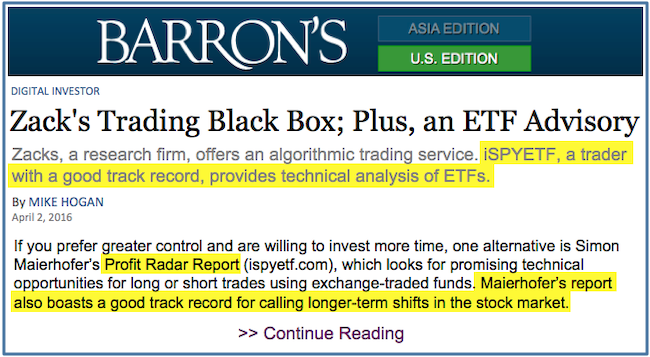 Being tuned into the market's hidden yet discernable signals has resulted in some pretty amazing buy/sell signals.
On average, there are about 20-25 official recommendations per year. I also outline 'unofficial' buy/sell setups for more aggressively minded traders.
The table below compares the S&P 500 performance against the net gain of Profit Radar Report trades:

Some subscribers have asked, and rightfully so, why the actual performance numbers are not as impressive as the major market calls illustrated below.
Being responsible for other peoples' money is a heavy responsibility, one that I'm acutely aware of. As a result, my approach is rather conservative (rule #1: avoid losses). This approach minimizes risk, but it also reduces gains and opportunities.
Although I've been one of few analysts who persistently forecasted higher prices over the past decade, my buy limits have often been too low, resulting in missed opportunities.
2020 is the most recent and perhaps most pronounced example. Although I predicted a rally to 3,000 and new all-time highs when the S&P 500 traded around 2,300 (via the March 26, 2020 Profit Radar Report), the market rarely pulled back enough to hit my buy limit orders.
You may improve personal returns by adjusting buy limits to be less restrictive or relax stop-loss levels. Many subscribers rave about the more aggressive 'unofficial' trades, some of which have resulted in 10 – 30% gains within a matter of days or weeks.
>> Find out more about profit strategies used to identify buy/sell signals
>> Sign up for the Profit Radar Report
The chart below shows an abbreviated history of my past observations and recommendations: