Operation Twist is circling the drain, set to expire on December 31, 2012.
Will Operation Twist be extended or even be replaced by outright QE?
What's the difference between Operation Twist and Quantitative Easing (QE)?
Operation Twist Basics
Since September 2011, the Federal Reserve has been buying about $45 billion of longer-term Treasuries per month with the proceeds from sales of a like amount of shorter-term debt.
Unlike outright QE purchases, the Operation Twist asset reshuffle does not add to the Fed's balance sheet.
Will Operation Twist be Replaced by Outright QE?
Boston Federal Reserve Bank president Eric Rosengren, one of the most vocal proponents of Fed asset purchases, advocates to continue spending $45 billion a month buying long-term Treasuries.
St. Lois Federal Reserve Bank president James Bullard has a different opinion. He said that the expiring Operation Twist program should not be replaced on a dollar-for-dollar bases, because asset purchases that expand the balance sheet (like QE) have a bigger effect than Twist.
QE Tally
So far the Federal Reserve has purchased about $2.4 trillion worth of government bonds and mortgage-backed securities.
During QE1, the Fed spent about $78 billion a month.
During QE2, the Fed spent about $75 billion a month.
During QE3, the Fed is spending about $40 billion a month.
Concurrent to QE2 and QE3 the Fed is reinvesting the proceeds of maturing securities. Based on a balance sheet of $2.4 trillion, this is a significant amount.
Abount $25 billion a month.
For the month of December, the Fed will spend about $65 billion buying Treasuries and mortgage-backed securities. This is "new" money.
An additional $45 billion of the proceeds from selling short-term Treasuries is re-invested in long-term Treasuries.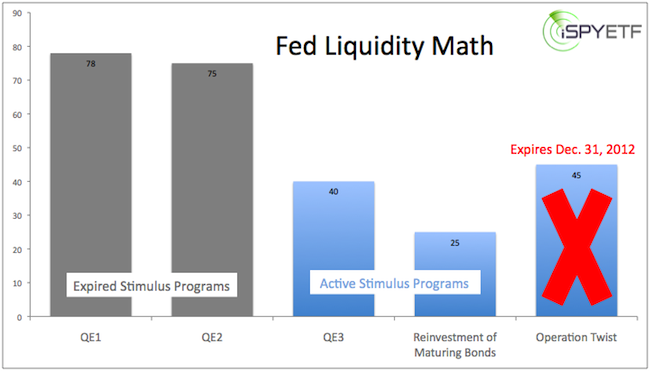 QE's Effect on Treasury Prices
What does all of this artificial demand for long-term Treasuries mean for Treasury prices and corresponding ETFs like the iShares Barclays 20+ year Treasury Bond (TLT)? It appears that the effect of QE3 on Treasury prices has been muted. It certainly hasn't driven prices up as should be expected.
In fact, 30-year Treasury prices have been stuck in a trading range capped by two long-term resistance lines and buoyed by an 18-month support line. As long as prices remain in that range the stalemate is likely to continue.
With strong seasonality for stocks straight ahead (and an inverse correlation between stocks and long-term Treasuries), I assume that price will break down.